Pics and details of my current crop of bikes
---
Latest incarnation of SUZUKI GSX1100G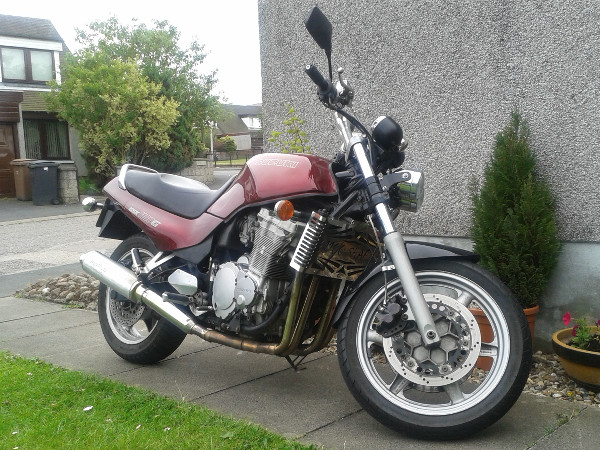 Summer 2014 and the beast is reborn!!
1993 CB750 F1
OOPS!! bought another one
Spotted this going cheap on ebay.
Non runner missing a battery and starter motor.
Swapped them over from the F2-N, replaced the vacuum pipe to the petrol tap, put some fresh petrol in  and it started straight off.
Going to use the best bits from both for my day-to-day run about and still have a donor engine for the chop project.
1996 Honda CB750 f2-N
I bought this off eBay and its done grand service as day-to-day transport since I fell off the Suzuki (see below)
However it's days are numbered as it is about to become engine donor to this...
Honda CB750 F (DOHC) Chop
This was also bought off eBay I saw it and had to have it.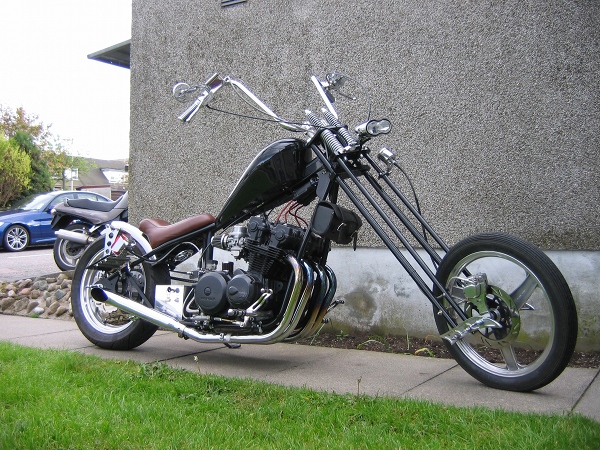 A great lookin' chop and a runner... just!! The engine is pretty well screwed.
I had 2 bikes with this type of engine in the eighties and a mate had the 900cc version, all of them went the same way. However, I managed to persuade a few gentle runs out of it this summer and the substitution of the more modern f2N engine should give it the reliability I need.
BUT... I can't put the f2N off the road until I've fixed this.
1992 Suzuki GSX1100G
Had this one from new, that's comin' up for 20 years at the time of writing. 19 accident free years until last May. When I got over-enthusiastic with the front brake on a damp, well polished bit of road and dropped it.
Lots of cosmetic damage (you can see pics here) added to a good deal of neglected maintenance problems equals bike off road.
I haven't decided if I will keep it standard or make changes yet but I've sourced some replacement parts and had the forks re-chromed by Philpot (Hard Chrome) Ltd
I also have this
1953 BSA A10 (non Runner)
But I may have to sell it to release funds (and make space) for the other ongoing work.